There is nothing as relaxing as spending time outdoors, is it? Or … is there?
A little over ten years ago, I signed up for a few weeks at the Banff Center for the Arts, an art residence high in the Rocky Mountains. It sounds ideal – all the fresh air and so few distractions! But I'm a city girl. Once I was there, I was surprised and sometimes overwhelmed by the landscape around me, and I was not the only one. You would think the mountains would give you a sense of freedom, opportunity, open space. In fact, I found myself in a bowl with high peaks on all sides. Instead of feeling on top of the world, I felt crushed by it.
That was in late October when I arrived: In Banff, it means moose mating season, and bulls do not come to play. Residence organizers explained that the elk, which roamed freely throughout the living area, should be avoided at all costs. On campus and on the way down to the city, signs warned of other clear and present dangers: falling rocks, moose and above all bears. It's enough to keep you indoors, safely at your desk.
And then there are dreams. I woke up one night with the frightening feeling that something was threatening me. At breakfast the next day, another author explained that these dreams – and indeed nightmares explicitly about a bear – were common in the region. She had been in the residence permit once before and woke up one night to find every single member of her cohort sitting up in the common room. They had all had the same nightmare, around – you guessed it – a bear threatening their beds.
The article continues after the announcement
When I went out to write The withdrawal, I knew only a handful of things about the story: that it would be about a dancer with a damaged body and a damaging emotional past – that is, an artist who has to put himself back together, both in body and soul. I knew she would go to nature to heal. Or at least that was her plan.
But nature can be a monster. I wanted there to be not one, but two constant and competing threats: the people around Maeve and the natural world around her too. It helped to think of other books that use monstrous nature not only as a framework – but as a true character in the story. These are some of my favorites.
The bear by Claire Cameron
This terrifying suspense novel loosely depicts a real bear attack that took place in Canada's Algonquin Park, and imagines the incident from the point of view of a fictional survivor – the five-year-old Anna who is left to look after her brother in the desert after both her parents are killed . Abandoned on the small island where the family had camped, Anna and her brother are of course not completely alone – the bear is still out there too.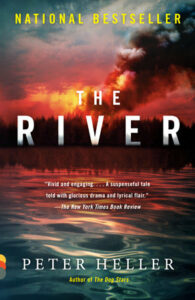 The river by Peter Heller
There is also a threat of a bear in this wilderness thrill – but here it is humans who pose the greatest danger. Jake and Wynn are Dartmouth students on a month-long canoe trip in the far north when they hear a couple – a man and a woman – arguing loudly through the fog. When they realize that a distant forest fire is chasing them down, the two young men go back to try to warn the couple – but only find the man alone. The woman has disappeared into the wild. Days from civilization and with the fire down, Jack and Wynn must fight to survive in this tense nail biter.
The article continues after the announcement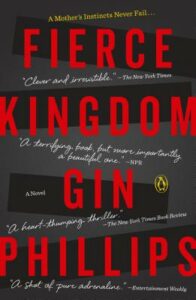 Hard kingdom by Gin Phillips
Wildlife is again a theme in this suspense novel about Joan, a mother on what looks like a regular afternoon trip to the zoo with her young son – until a shooter comes through the gate just before closing time. Joan has to use her knowledge of zoos' paths and exhibits to survive a deadly game of hiding – to keep herself and her four-year-old protected from a shooter who hunts humans.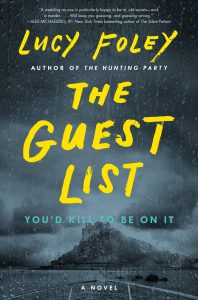 The guest list by Lucy Foley
As we move on to the weather, it's a storm at sea that poses the natural threat of Foley's twisted, magnifying thriller about a wedding that has gone wrong. Seen on a day resort on a picturesque island off the coast of Ireland, the story begins with a ferry crossing in ideal weather – but that night a violent storm has rolled in from the Atlantic Ocean and one of the guests is dead.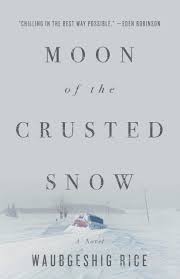 Moon of the Crusted Snow of Waubgeshig Rice
I loved the pulsating, slowly burning suspense in this novel about a northern indigenous society facing an apocalyptic winter storm. When the power is gone and the food supply declines, the community is cut off from the rest of the community, and the residents do not know if the storm has only affected their part of the world – or if the rest of the country is also buried. When an uninvited stranger shows up and flees the crumbling community to the south, things get worse.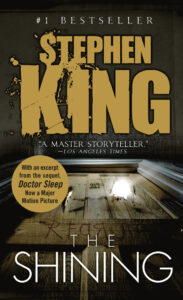 Evil hotel by Stephen King
I was probably thinking of this classic novel more than any other story when I wrote The withdrawal. I wanted the same intense, claustrophobic feeling of the mountain hut; I wanted my characters to be as caught up in the heavy snow as they were by their own anxiety. IN Evil hotel, author Jack Torrance moves his wife and son to the Overlook Hotel in Colorado so he can take a job as a winter caretaker in hopes that loneliness will help him break his writing block. Once there, they are caught by a blizzard, and while his son's psychic abilities make him see the hotel's terrible past – it's Jack who rolls out, leaving both his wife and son in grave danger.
The article continues after the announcement
***