A look at this month's best reviewed crime novels, mysteries and thrillers.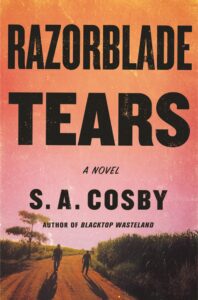 SA Cosby, Razor blade tears
(Flatiron)
Cosby's attempts to expand the chorus to voices representing the South are shown in full in his follow-up, Razorblade Tears … The novel's DNA may seem familiar to readers of Blacktop Wasteland or Joe R. Lansdale's Hap and Leonard series, but its composition feels completely unique, as if the elements of one's waking life were encrypted in a dream … Cosby has a nervous ability to describe what fists, knives, cannons and various garden tools can do to the human body, which can make the violence more alive than some readers can comply. However, driving a shotgun with violence is also great beauty – in descriptions of a society's grief, in the fathers' touching awareness of the true meaning of love and even in Cosby's reverence for the pulsating natural world … The contradictions in Razorblade Tears suggest the deeper moral ambiguity in this and all vigilant tales. Unlike another Shakespeare character who famously said that revenge is a dish best served cold, these southern fathers are well known for the paradoxes of their mission, even though they are forced to end it in the name of justice for their boys. "
–Paula L. Woods (Los Angeles Times)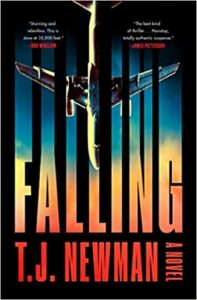 TJ Newman, Declining
(Avid Reader / Simon and Schuster)
"… a smart airline thriller that is as much a tribute to the 1970s movie franchise at the airport and a study of 21st century failed American foreign policy … The plot's construction is elevator-pitch gold … in a way, everyone is a suspect or at least an accomplice when we learn that the terrorists here are Kurdish and that they are seeking revenge for being left to die when the Trump administration abandoned them in northern Syria. It's a long time to make terrorists empathetic, and in Newman's honor she does not try. Instead, she's just trying to make them understandable. Revenge is a right that Americans love to take, which makes Falling emotionally complicated in surprising and refreshing ways … That's not to say Falling does not have her mistakes – dialogue is not Newman's specialty, so she ends up leaning into a cliché … Still, Falling is expertly paced… a rich and secure debut. "
–Tod Goldberg (USA today)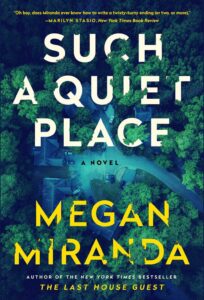 Megan Miranda, Such a quiet place
(Simon and Schuster)
Playing with perspective is a Miranda specialty, and she does it so spectacularly in such a quiet place, exploring how speculation can be transformed from free entertainment into actual condemnation. She also touches on a favorite theme of manipulative friendships, as Harper's persistent self-confidence and empathetic nature leave her vulnerable and color her worldview and behavior towards Ruby … Miranda has created a claustrophobic and exciting unit – a pressure cooker filled with a host of probable suspects , toxic HOA group thinking and lots of finger-pointing among supposed friends – thinking about the eternal question of how well we really know those closest to us.
–Linda M. Castellitto (Bogside)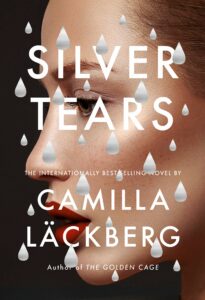 Camilla Lackberg (trans. Ian Giles), Silver tears
(Button)
"[A] rip-roaring sequel … Läckberg mixes Faye's fight to preserve Revenge and her secrets with scorching scenes from Faye's youth in the town of Fjällbacka … This tribute to lusty sisterhood is a must for Scandi noir fans. "
The article continues after the announcement
– (Publishers Weekly)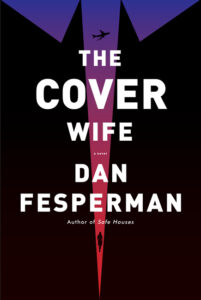 Dan Fesperman, Cover Wife
(Button)
"The author specializes in humanizing the internal grasslands between and within competing intelligence agencies. With The Cover Wife, he has produced another intelligent, tense and sharply written espionage thriller. "
–Tom Nolan (Wall Street Journal)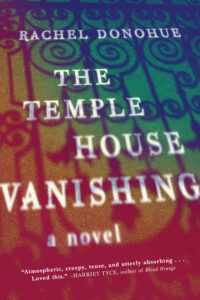 Rachel Donohue, The Temple House Vanishing
(Algonquin)
"… a provocation of Gothic horror. While fear never overwhelms, the feeling is felt that characters are haunted by what happens at school, from the moment Louisa, the fellow student, arrives … In an atmosphere where the cacophony of teenage hormones blares in the middle of a community of nuns , who have directed their passion towards religious life, Donohue adds the feeling of shambolic emotion in games with skillful pacing. And when the wind sings through the cracks in the old windows, ghost stories are born. "
–Lorraine Berry (Star Tribune)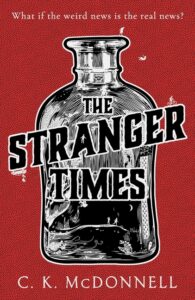 CK McDonnell, The Stranger Times
(Bantam)
"McDonnell wraps jokes in every layer of his writing – narrative, description, dialogue – and they always propel rather than stop the storytelling, which is the real test of a comic book writer … He also has an enjoyable sense of macabre; these dark forces are not messy. There is no shame in being formulaic when the formula is good and The Stranger Times rips entertainment from start to finish. "
–Sarah Ditum (The Times UK)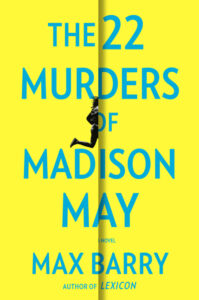 Max Barry, The 22 murders of Madison May
(GP Putnam's Sons)
"… an extremely naturalistic and down-to-earth environment, but one with its own share of alienation. The 22 murders of Madison May begin with the intimate perspective of Madison 'Maddie' May … Her somewhat sad and depressing life is reproduced in fine detail … We then jump into the daily grind of Felicity Staples, young political reporter for New York Citys Daily News. (Her clearly drawn colleagues, boss Brandon and crime beats Levi's stomach, also lays out their roles nicely) … Barry strives to paint equally compelling portraits of the two women and gets pretty close. Each character assumes a fully rounded and heavy resonance. But Maddie's condition as an ignorant perennial victim speaks against her foreground. It is truly Felicity who acts as our protagonist as we witness her dogged, creative pursuit of justice, despite all the deracination she experiences. "
The article continues after the announcement
–Paul DiFilippo (Washington Post)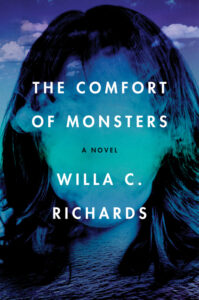 Willa C. Richards, Monster comfort
(Harper)
"[A] provocative debut … Her novel is absolutely thrilling. But it's a slow unwinding that requires patience … Richard's debut is so much bigger and wiser than just the 'Dahmer novel' … Monster's Comfort is an intense and artificial study of the relationship between gender, power, violence and identity, as well as the deeply subjective nature of human memory. It's a masterpiece by Richards that should demand the attention of readers. "
–Jung Yun (Los Angeles Book Review)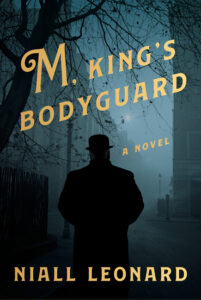 Niall Leonard, M. King's bodyguard
(Pantheon)
"… a well-started, closely plotted, deeply researched exercise that suggests the kind of family franchise one might actually continue to read … Leonard intelligently justifies the plot in the geopolitical paranoia of fin-de-siecle Europe, where anarchists has already claimed the lives of Alexander II of Russia, the Austrian Empress and Prime Minister of Spain, and where a pinnacle threatens to blow up the entire chain of alliances soaring … In short, it's all fun … Research may sound awkward for the modern ear, and Melville's Irish brogue can tilt to the vaudevillian… Meanwhile, the dead city lives in its beautiful misery. "
–Louis Bayard (The Washington Post)